Proud To Partner With Riello UPS Ireland
Kellihers Electrical are delighted to bring the Riello range of UPS products to Ireland this year!
Part of the wider Riello Elettronica group that has a presence in 85 countries, Riello UPS is the second largest manufacturer of uninterruptible power supplies in Europe. Its UPS are renowned for combining outstanding reliability and performance with exceptional energy efficiency that reduces power consumption and running costs.
Whether you need to protect office IT and VoIP networks, rack servers, or sophisticated electronic and industrial equipment, there's a Riello UPS solution to suit thanks to its comprehensive range of freestanding, rackmount, and modular UPS.
And when you choose a Riello UPS system from Kellihers Electrical, you're guaranteed proven quality. That's why you'll get the added peace of mind of a 5 year extended warranty as standard on all UPS up to and including 3 kVA.
Thanks to our new partnership, Riello UPS's expert team will also be on hand to provide unrivalled pre and post-sales advice, technical assistance, and a complete range of installation, servicing, and ongoing maintenance support.
So if you've got a big project coming up and need help specifying the right UPS, just get in touch and we'll point you in the right direction.
Riello UPS
Maximum reliability in the protection of PCs.
Riello compliment everything from small desktop or laptop PCs to data centre supercomputers, factory equipment operating in the harshest industrial environments, and life-saving electro-medical devices with unmatched aftercare and support services from their vastly experienced and friendly team.

Get peace of mind from Riello transparent UPS maintenance contracts with 100% guaranteed response times and benefit from extended 5 year warranties as standard on all UPS up to and including 3 kVA.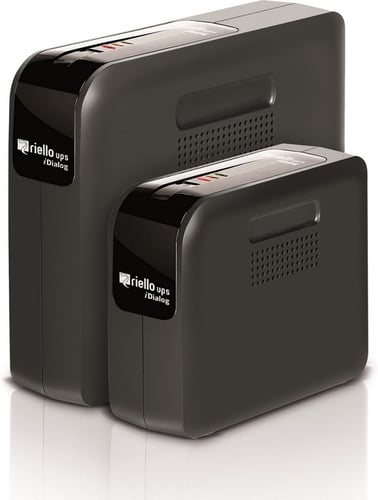 Discover The Doubly Versatile Sentinel Dual Low Power Series
The Sentinel Dual Low Power (SDH) series from Riello UPS Ireland is your perfect choice for protecting VoIP networks, blade servers, electro-medical devices, and emergency lighting/security systems.
With a compact design plus simple plug & play installation as either a 2U rackmount UPS or freestanding solution, the doubly versatile SDH is an ideal option for Edge computing applications or space-restricted environments.
It comes in 4 power ratings (1000-1500-2200-3000VA) and is designed to handle non-linear electrical loads typically found in blade servers. The UPS's revamped inverter delivers >0.98 pf and efficiency of 92%, while it has a high overload capacity of up to 150%.
For applications needing longer battery autonomy choose extended runtime versions incorporating powerful chargers and additional battery boxes (2200-3000VA only).
As with all Riello UPS Ireland systems up to and including 3 kVA purchased from Kellihers Electrical, the SDH comes with an extended 5 year warranty as standard.
WANT MORE INFORMATION ON THIS SUCCESSFUL PARTNERSHIP?
Simply fill in your details below and we will get in touch